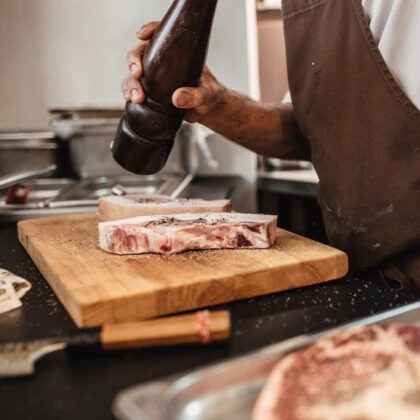 Our pride and dominant feature inside the restaurant - a large open
grill
powered by oak charcoal. Thanks to its location, you can watch with a glass of
wine
in your hand how a piece of meat turns into a juicy steak in the hands of our chefs, how mussels slowly open in contact with hot coals and how an octopus is prepared for your table. Thanks to the
grill
, the food has a unique taste and aroma.
In addition to steaks from aged meat, which we ourselves age for several weeks in special refrigerators, we also prepare seafood, appetizers and many other items from our permanent menu on the grill.
Our butcher Tomáš Mareš is behind the selection and has been preparing the highest quality meat for more than 8 years.
The grill
is
open every day from 17:00 and on weekends from 11:30.